Kidscreen » Archive » Basic fun! to relaunch Hasbro's Littlest Pet Shop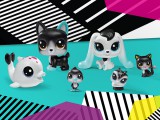 Basic Florida fun! turned the lights back on at the Littlest Pet Shop to secure a new global toy deal with intellectual property owner Hasbro.
Basic fun! will manufacture and distribute a new line of toys, playsets and accessories to retailers worldwide in 2024 based on the brand that revolves around collecting and customizing all kinds of pets company, from dogs and cats to cows and sheep.
The company aims to introduce Littlest Pet Shop to a new generation of children (ages four and up) and reconnect with adult collectors, CEO Jay Foreman said in a statement.
Kenner Products first launched LPS in 1992, then it made a comeback in 2005 after Kenner merged with Hasbro in 2000. The brand continued to be revamped with new product lines until may she be shelved in 2018. To date, LPS features over 3,000 pets to collect and has spawned three CG-animated TV series (1995, 2012, 2018).
Hasbro is moving from managing its own brands to licensing partners, Global Vice President of Toys and Games and Licensed Consumer Products Jess Richardson said in a statement. The company unveiled its new strategy in October, with the goal of increasing profits by 50% and reducing costs by more than $250 million by 2025.