Pet Care on Capitol Hill: First Impressions from a Young Professional | Current problem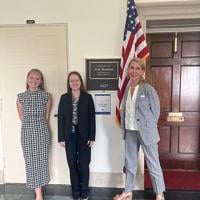 EAlthough I lived in the Washington, DC area for over a decade, I had never set foot on Capitol Hill until Companion Animal Advocacy Network Pet Care Community DC Fly-In on September 21. The event was not only my first visit to Capitol Hill, but it's also my first year as a professional representing my organization and the pet trade at a Congressional fly-in, so I a summer a little intimidated at first. In that sense, I approached the fly-in the same way as new participants who joined us from across the country.
In retrospect, the fly-in participants and I had nothing to worry about as my colleagues at Pet Advocacy Network had taken care of all the logistics in advance and everyone I met was enthusiastically engaged in the process. . Lawmakers were open to hearing about how essential companion animals are to human health and quality of life, and often shared their own first-hand experiences. Throughout the day, I learned a lot and jotted down the things that stood out the most.
One of the first things I noticed that day was the bustling atmosphere that permeated all of the legislative buildings. I was not on staff when I last met in person in 2019, but I understand that security for entering buildings is much tighter these days, which is not surprising in a post- pandemic. I took advantage of the downtime and took the opportunity to chat with other people waiting in line. It was fascinating to see all the various professions represented and it was instructive to learn how much competition there is for the attention of politicians. Every minute counted.
With so little time available, it was crucial to present precise and convincing arguments. Pet Advocacy Network has created talking points on four key questions:
• The Healthy Dogs Importation Act: Would establish protocols including verifiable veterinary certificates, vaccinations, and individual examinations for dogs entering the United States to protect pet health and public health.
• The National Service Animals Memorial Act: aims to establish a monument in DC to honor service animals and their owners.
• The Family-Owned Pets Act: Aims to remove barriers to pet ownership, such as breed-specific prohibitions of public housing limitations.
• Proposed Amendments to the Lacey Act: Would Unreasonably Restrict Imports and Interstate Transportation of non-native species, crippling the exotic pet trade and causing a negative ripple effect on the entire pet care community.
The second realization I had was how empowered and motivated my fellow pet care community advocates were to urge lawmakers to pay attention to their priorities in person. I've been joined by pet business owners, veterinarians, scientists, groomers, product manufacturers and distributors, and more. All participants took time away from their organizations to join us and spent money to travel to Washington because of their commitment to the future of pets and pet ownership.
Jay Springer, Live Animal Manager at Pet Supplies Plus, on his second pet care flight, said, "The pet care community has supported my organization, its employees, and my family for a long time. over a decade now, so I'm thrilled to have the chance to give back in any way I can.
Another aspect that stood out to me during these meetings was the offices' interest in hearing the personal stories of constituents on the issues under consideration. While the background information and data we provided was always taken into account, it wasn't until a participant flying in described how the problem affected them personally or professionally that it really started. to ask questions.
Samantha Boyle, co-owner of Petland Stores in Arkansas, felt that interacting with lawmakers allowed her to air her points with greater authority and allowed her to leave an impression. "We were able to help them better understand the economic and social impact the pet care community is having on their constituents, especially since the pandemic," she said.
All in all, it was a rewarding day that was a huge success. More than 80 pet care experts visited the offices of more than 120 members of Congress to raise awareness and urge support for pet ownership. However, having seen all the different professions struggle to have their interests heard by Congressional Offices, I'm sure the pet care community needs to invest time and effort not just once a year during the fly-in, but throughout the year to build and maintain relationships with officials at all levels of government, and that's what we at the Pet Advocacy Network do for you all year round. PB
Lynne Taylor is Marketing and Communications Coordinator for Companion Animal Advocacy Network. The Pet Advocacy Network can help you engage with your legislators and stay up to date on legislation that may affect you or your pet business. Join us on petadvocacy.org/join.